Data snapshot: what stocks have been the most traded on the ASX?
The most traded stocks on AUSIEX over the 10 weeks to 30 July 2023 were:
BHP Group Limited (ASX:BHP)
Westpac Banking Corporation (ASX:WBC)
Commonwealth Bank of Australia (ASX:CBA)
Pilbara Minerals Limited (ASX:PLS)
Fortescue Metals Group Ltd (ASX:FMG)
Woodside Energy Group Ltd (ASX:WDS)
National Australia Bank Limited (ASX:NAB)
ANZ Group Holdings Limited (ASX: ANZ)
Woolworths Group Limited (ASX:WOW)
Macquarie Group Limited (ASX:MQG)
Source: AUSIEX as at 3 August 2023
The major iron ore miners were well-traded, particularly Pilbara Minerals and Fortescue, as a result of forecasts that there may be increasing demand from China amid expectations that the Chinese government will provide stimulus to revive the world's sluggish second largest economy.
Some investors liked Woodside due to the rise in prices for its gas. While others opted for consumer-orientated stocks such as Woolworths, as demand for food will continue, even with the cost-of-living crisis.
All the major banks also featured in the most traded list, as professional investors tweaked their allocations, while income investor interest remained strong for their fully franked dividends. Speculation about the future of the Bank of Queensland saw some investors buy its stock, as shown below.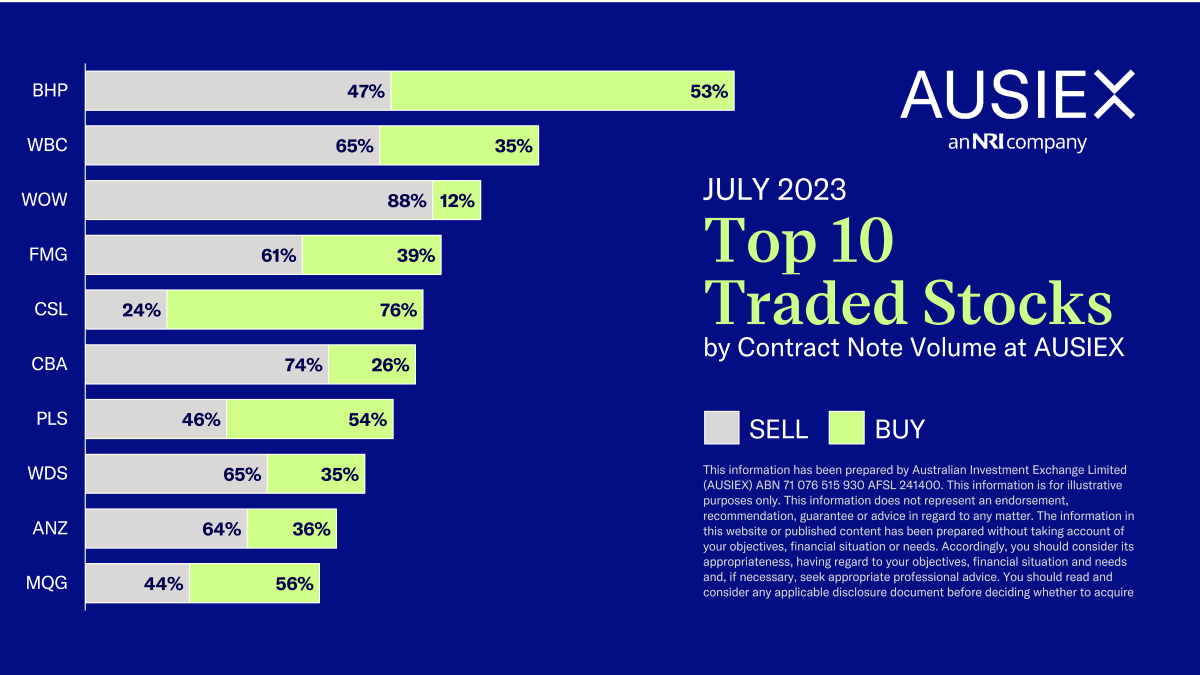 The next most bought stocks included:
Vanguard Australian Shares Index ETF (ASX:VAS)
Mineral Resources Limited (ASX:MIN)
Core Lithium Ltd (ASX:CXO)
Bank of Queensland Limited (ASX:BOQ)
Whitehaven Coal Limited (ASX: WHC)
South32 Limited (ASX:S32)
Rio Tinto Limited (ASX:RIO)
Wesfarmers Limited (ASX:WES)
Lynas Rare Earths Limited (ASX:LYC)
New Hope Corporation Limited (ASX:NHC)
Source: AUSIEX as at 3 August 2023
Interest in renewables, in particular battery storage, saw increased interest and trading in explorer and miner Core Lithium, as investors played the renewable energy storage theme. Its stock was bought on optimism about increased demand for batteries, then sold later as the company revealed its volumes in 2025 might be half analysts' forecasts.
Coal miners were also in favour, with Whitehaven and New Hope stock in demand, along with miner services company Mineral Resources.
Interestingly, one exchange traded fund, the Vanguard Australian Shares Index ETF was among the most bought stocks.
The next most sold stocks included:
CSL Limited (ASX:CSL)
Newcrest Mining Limited (ASX:NCM)
Endeavour Group Limited (ASX:EDV)
AGL Energy Limited (ASX:AGL)
Panoramic Resources Limited (ASX:PAN)
Source: AUSIEX as at 3 August 2023
Outside the top 10, major health care, and some energy and consumer discretionary stocks were sold off, including CSL which was sold off after a strong run earlier in the year.
While some resources groups were strongly bought, others were sold, such as the world's biggest gold miner Newcrest which had previously risen due to a takeover offer from Newmont. AGL was sold off by some investors, including by disruptor Grok Ventures, despite forecasts that it will double its profit due to higher energy prices, which was not enough to deter a downgrade by brokers at Macquarie.
The top 10 stocks on the ASX by market capitalization, in order, as at the beginning of August were:
BHP (ASX: BHP)
Commonwealth Bank (ASX: CBA)
CSL (ASX: CSL)
National Australia Bank (ASX: NAB)
Westpac Banking Corporation (ASX: WBC)
ANZ Bank (ASX: ANZ)
Woodside Energy (ASX: WDS)
Macquarie Group Limited (ASX: MQG)
Block Inc (ASX: SQ2)
Fortescue Metals Group (ASX: FMG)
Source: AUSIEX as at 3 August 2023
Just because a stock is one of the largest listed on the Australian Securities Exchange (ASX) does not mean it is one of the most traded. There are a range of other stocks that pique financial adviser and investor interest.